General
MULTISel offers a system-level solution for tightly-coupled,
distributed processing by providing up to four CPU/IPU
computational elements (nodes) in a single, com-pact
cabinet. Up to nine nodes can function as a single multi-
processing system with one node designated as the system
host.

MULTISel enables the user to apply the right amount of
processing power to individual application areas by as-
signing them to independent, but closely coupled, MULTISel
nodes. Gould's unique Reflective Memory system links these
nodes TO provide each with a common address range for data
needed by all nodes in the system.

This distributed design enables the user to:

• Virtually eliminate contention among nodes for improved
application response time
• Provide optimal power to each functional area of an application
• Independently develop each node's function
• Incrementally enhance the performance of each node
• Easily expand a system with the addition of new nodes for new application functions



Description

MULTISel configurations with various hosts allow hardware and software support for up to nine nodes forming a single system.

High-density packaging and internal cabling enable two connected MIJLTISe1 cabinets with up to eight nodes to provide up to 24 MWhets of distributed power in a space only three feet, eight inches wide. The controlling host node can be a CONCEPT 32/97, 32/87. Se1PAC ' or another MULTISel, depending on application requirements. With a CONCEPT 32/97 or 32/87. The system-level processing range increases to 34 MWhets.

The MULTISel Host/Node Peripheral Cabinet differs from the standard node cabinet in that it is designed to accommodate peripheral devices in the upper half Each node supports standard CONCEPT/32 hardware and software and runs its own copy of the MPX-32 Operating System, which is downloaded from the host node, Nodes are available in eight- and 16-SelBUS slot versions

MULTISel nodes contain:

• Vertically cooled, eight- or 16- lot Se1BUS chassis with power supply
(16-slot nodes include two power supplies)
• Power sequencing module
• CMOS CPU
• Floating-point Coprocessor
• Multi-Function Processor (MFP)
• 2MB or 8MB Dual-Port Integrated Memory Module (DPIMM)
• Reflective Memory port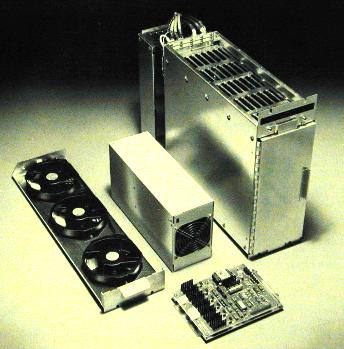 Each of these components is implemented on a single circuit board. MULTISel nodes also can contain an Internal Processing Unit (IPU) a secondary computational processor — with its own Floating-point Coprocessor.
CMOS CPU
The single-board CMOS CPU uses the latest in advanced gate array technology to perform at levels equivalent to the CONCEPT 32/67 CPU while maintaining complete hardware compatibility.
Floating-point Coprocessor
Surface mourn chips and FAST-logic technology enable Gould to produce a single-board, floating-point accelerator that can be used as a coprocessor with the CMOS CPU and IPU. The Floating-point Coprocessor performs floating-point arithmetic operations and fixed-point multiplication in a fraction of the time required by firmware and software implementations. Both 32-bit single precision and 64-bit double precision operands are supported.

Multi-Function Processor
Several SelBUS and Multipurpose Bus boards are consolidated on the Multi-Function Processor (MFP) board. This board encompasses the following functions:

• Console port Seven asynchronous ports
• Line printer port
• Real-time clock and interval timer
• 12 external interrupts
• Two Small Computer Systems Interface (SCSI) buses — one dedicated to a fixed disk
drive the other for a magnetic tape drive and future devices
The MFP supports these functions without an expansion chassis. As an option, a second device interface card supports two 5 1/4inch floppy disk drives and is capable of generating an MP Bus
Memory
Dual-Port Integrated Memory Modules (DPIMMs) provide 2MB or 8MB of memory, DPIMMs feature two-way, on-board interleaving, which alleviates memory busy problems and improves memory access times in various applications. The second port of the DPIMM supports Reflective Memory DPIMMs can provide 16MB of memory and use only two Slots
Reflective Memory
With Reflective Memory, Nodes retain their own private memory while taking advantage of a common, logically linked reflective memory partition This partition contains data required by all nodes in the system, in effect providing each with its own copy of the data base. Any node writing to this partition causes that write to be immediately transferred to other nodes reflective memory partitions. Thus, each node has free access to its own constantly- updated copy of the application data base
Reflective Memory relies on the following components
• DPIMMs
• Reflective Memory Port: Read Sense Controller (RSC) and Write Sense Controller (WSC) device interface card sets — Reflective Memory Bus (RMB)
The RSC monitors the RMB and the WSC monitors the SelBUS for addresses soft-programmed to specify the reflective portion of memory The RSC and WSC contain buffers for queuing requests to or from the RMB. which eliminates additional processing time The RMB is a high-speed bus that transfers data at the SelBUS rate of 26.67MB/second

Reflective Memory System
Software is an optional. MPX-32-based package consisting of six application tasks which provide the necessary tools to configure, download control, and monitor up to eight nodes from a single host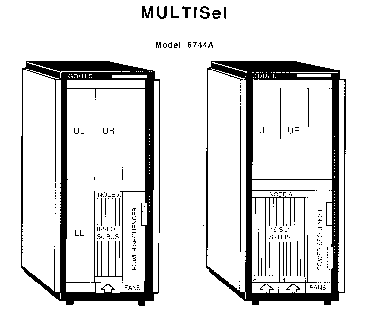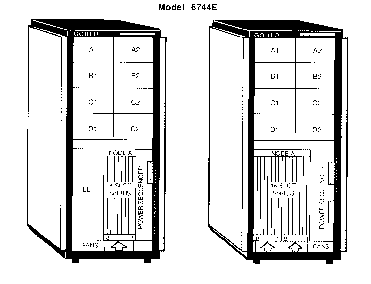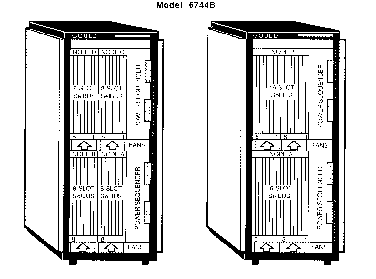 Model Numbers

6744A - MULTISel COMPUTER SYSTEMS — Real-time, distributed processing systems with one eight-slot or 16-slot node.

6744B

- MULTISel COMPUTER SYSTEMS — Real-time distributed processing systems with four eight-slot or two 16-slot nodes

6744C

- MULTISel EXPANSION NODE — Includes 2MB or 8MB DPIMM

6744E - MULTISel HOST/NODE

PERIPHERAL CABINET — Includes 2MB or 8MB DPIMM, eight- or 16-slot chassis, and power strip for

the peripheral equipment.

8921 MULTISel EXPANSION CHASSIS — Includes eight-slot chassis, fan assembly, power sequencer, and universal power supply.

Product Specifications
Physical

Dimensions

Height

Width

Depth

Weight

Minimum (single node)

Maximum (four nodes)

Electrical

Voltage
Current
Phases
Frequency
AC Plug

AC Receptacle

Power Dissipation

Minimum (single node)
Maximum (four nodes)

Environmental

Temperature (ambient air)
Operating
Storage
Transport
Humidity (non-condensing)

Operating

Storage/transport

Heat Dissipation

Minimum (single node)

Maximum (tour nodes)

Noise

Performance

Processor (per node)

Word Length

Data Sizes

Logical Address Space

Physical Address Space

General Purpose Registers

Base Registers

Instruction Repertoire

Floating-point Arithmetic

Integrity Features

Interrupts

Priority levels

Real-time clock

Interval timer

Memory

Technology
Word Size

Cycle Time

Capacity

Interleaving

Overlapping

Cache

Size

Organization

Replacement algorithm

Reflective Memory

Throughput

Transfer cycle period

(selectable)

55 in. (1397 cm)

22 in. (559 cm)

38 in. (965 cm)

650 lbs. (294 8 kg)

1,250 lbs (567.0 kg)

Domestic

208 VAC +/- 10%
50Amps
2
60Hz
not supplied/none specified

none (hardwired-use

AWG #8 85C wire mm)

1000 Watts
4,000 Watts

50F to 104F (100C to 400C)
-8F to 117F (-22C to 47C)
-40F to 144F (-40C to 62C)

20% to 80%

10% to 90/o

5,115 BTUs

20,450 BTU5

62 DBA (approx)

32 bits

1.8, 16, 32, 64bits

16MB

16MB

8

8

214 instructions

Standard firmware and hardware unit

Memory protect, power fail sfae, memory ECC, arithmetic exception.

privilege violation, non-present memory

112 maximum

60/120 Hz or 501100 Hz (line frequency dependent)

32-bit, 600 ns resolution, 300 ns resolution

with optional RTOM

Two 1MB or 4MB DRAM SIP banks, four-way sliced

32 data bits plus 7 ECC bits

150 ns effective

16MB

Standard two-way, on-board: optional two- or

four-way external

Standard

16KB instruction cache

16KB operand cache

Two-way set associative

Least Recently Used (LRU)

26.67MB/second

150 ns, 300ns

International

240 VAC +/- 10%
50 Amps

50Hz
not supplied!

none (hardwired-use AWG#885C wire mm,)


1,000 Watts
4,000 Watts